What are clickers?
Clickers are also known as Audience Response System (sometimes referred to as Classroom or Student Response System). Their use is to support student interaction and feedback, particularly in large lecture environments. The clickers mentioned in this post are web-based apps rather than the physical devices you may have seen or used before.
What are the benefits?
•    Students can give their input/feedback via a smart mobile phone or any other internet connected device
•    Engage and interact with students in real-time
•    Anonymous, instant feedback, interactive, fun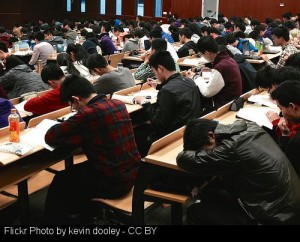 In practice
In this interview with an academic at the University of North Carolina, we can see how clickers are being used with a class of 400 biology students.
Examples
Here are a couple of examples of web-based clicker apps (freely available) – Mentimeter and mQlicker
There are, however, a lot of others available out there if you Google Search the word 'clickers' or 'polling'.
Mentimeter
This has a free starter set of features with a discounted Educational upgrade option.
Mentimeter is a cloud-based tool that lets you engage and interact with your students in real-time. You set the questions and your students can give their input via a smart mobile phone or any other internet connected device.
This example video shows a step-by-step set up and use of the Mentimeter app and its application to teaching.
mQlicker
This can be used free by an education user and is quite sophisticated.
There is a demo on their site so you can see what type of interaction occurs. There may be priced features that are desirable but the standard account is very useful 'as-is' and it is quite intuitive to set up.
Next Steps
If you can see an application for polling with clickers in your class, contact your faculty-assigned Learning Technologist for further support.