Did you know Kaltura can now handle student video or audio assignment submissions? This is a relatively new feature that allows students to upload a file, submit it as an assignment, and have it available for you as the marker to stream from the browser (and is compatible with Speedgrader in Canvas).
Though new, there's a minor change that improves the experience for students. Video assignments submitted via Kaltura now use the "Kaltura Media Submission" tool, which is separate from the regular "Kaltura Media". Read on to find out more.
About Kaltura Media Assignments
A Kaltura media assignment is essentially just an online text submission assignment with an embedded video in the text area. As a teacher you follow the same steps you would for creating a regular online text submission.
The actual media submission comes from the student's end. They follow a process to embed a Kaltura media submission in the text field, and in doing so a duplicate of their video is made and displayed as the entry, timestamped at the point of submission. This means they can make changes to their original file (eg. deleting or swapping it out), but their submission will remain unaffected, which is important for maintaining academic integrity.
Blackboard and Canvas now have a slightly updated process students take to embed their assignment.
The Old Submission Process
Previously, students would follow the same steps to embed a Kaltura Assignment as you follow when you add a video to a page:
Blackboard > Rich Text Area > Mashups > Kaltura Media
Canvas > Rich Text Area > External Tools > Kaltura Media
After uploading and embedding, they were previously faced with an opt-in pop-up: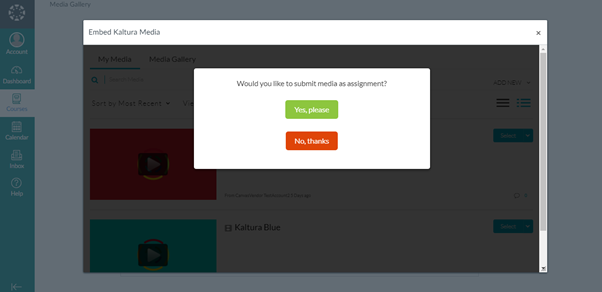 The New Submission Process
Now, Kaltura assignment submissions have their a separate tool:
Blackboard > Rich Text Area > Mashups > Kaltura Media Submission
Canvas > Rich Text Area > External Tools > Kaltura Media Submission
This new tool removes the need for the pop-up window. The rest of the steps (uploading and embedding a new file or embedding an existing file) remains the same.
---
It's worth noting that there are limits to what this Kaltura Assignment workflow can do – you cannot for instance directly share a submission (eg. if you wanted students to view each other's work and peer-assess, you and the student would need to follow a number of additional steps.) You also, as the marker, cannot download the submission file for offline viewing (you can only stream from the browser).
However, if you're looking for a way for students to submit a video or audio file that you can then play and mark within Speedgrader, this may be the solution for you.
Further instructions can be found at https://help.online.uts.edu.au/information-for-staff/kaltura-in-utsonline/kaltura-video-assignment/