Exciting news! From this Thursday, videos and audio uploaded to Kaltura will have captions automatically created and made available to students. When you add media via uploading or via Kaltura Capture, Kaltura will create 'machine captions' – automated captions generated by a machine learning algorithm. So, when this video/audio features in your subjects, captions will be available to the viewer.
The automation significantly reduces manual administration work – previously, you had to request each caption file be generated for each media file you upload. It also greatly improves the accessibility of UTS learning and teaching materials, as well as providing a range of benefits to all sorts of cohorts.
What's involved for you and your students?
For the first step, nothing extra! As soon as you upload your video or audio, captions will be requested automatically. After some processing (usually about half an hour), they'll appear available for viewers to select on your video under a little 'CC' icon:
Captions start out turned off by default. If a viewer (ie. student) turns the captions on, they'll display on the media as it plays:
It's that simple.
How accurate are they?
They're actually pretty good, around 92-95% accuracy from the outset. This is acceptable in many situations. However, it does introduce the occasional error, particularly where a lot of names or technical jargon is used. It does also leave out some punctuation. Have a look at this example, with the correct spelling in green, and the mistranslation in yellow:
Fortunately, it's fairly quick and easy to review and edit the captions, to ensure your students are getting the most out of them: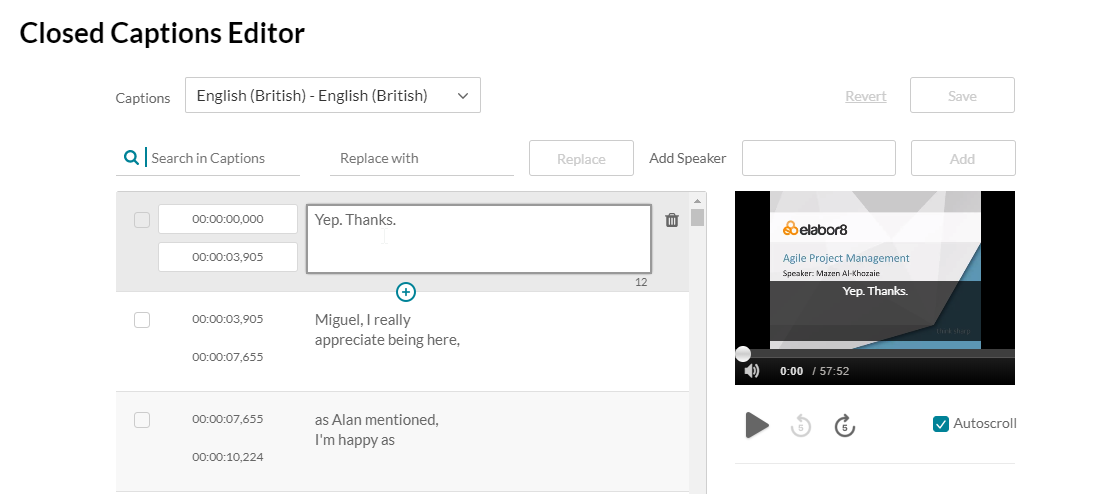 We'd recommend spending the couple of extra minutes per video/audio cleaning up your captions, especially where it's important for your students to get the language and spelling correct.
You can view our online guide for editing closed captions, or contact the LX.lab for a walk through.
The good news is, because the process is based on machine learning, the more it's used, the better it becomes over time, meaning the already high accuracy will improve.
What if I don't want the captions option?
While there are lot of benefits to captioning, and it's an important component of UTS Accessibility efforts, if you're worried about any mistakes and won't have time for a quick check-over, it is possible to disable the captions on a per-video basis once they've finished processing. However, we'd strongly encourage you to keep them available – if you don't have time to edit them, consider including a brief disclaimer before your students engage with them, rather than removing them entirely!

What if the video is in another language?
The captions generated are in English (British). As UTS teaches 6 languages as part of its international studies program, you can manually request captions made in one of those languages instead and remove the English captions. Note that this service does not translate to English – the captions would be in the original language. Instructions for this can be found in our online guide for editing closed captions.
The benefits of captioning
We've written about this in the past – see our article Three Surprising Ways that Captioning Improves Learning for All.
In brief:
Captions make content more accessible. While many students will contact the Accessibility unit to identify their needs, and there are different processes in place to create professionally vetted captions for them, it is entirely optional. The University is striving for a high level of digital accessibility, and that means making our content accessible by default – before the request needs to be made.
Captions are not just about supporting hearing accessibility. Significant research has shown captions can help students with English as a second language in their learning. More broadly captions can help with note-taking and comprehension.
So, from Thursday afternoon, have a quick look at the captions generated, and thanks for helping to make UTS a more accessible place.
Main image by Nick Fewings on Unsplash